Vivian Maier is without a doubt one of the most enigmatic photographer/personalities of the 20th century. Pamela Bannos book seems to be the most helpful in sorting out who she was and how she went about being one of the most accomplished and yet unknown street photographer. She lived her early life in France but then came to America and lived in both Chicago and NYC. She was a nanny by trade. Her works were private until she forgot to pay the company storing her belongings. Her portfolio contained pictures, negatives and many rolls of undeveloped film. It was sold at auction and has been spread to the wind to many different individuals.
I often wondered how her talent went unnoticed? Did she develop her own works? Bannos seems to answer that question at least for her work done in Chicago:
"that Vivian Maier frequented downtown's century-old Central Camera photo supply shop. His sleuthing had brought him to the doorstep of Vivian Maier's sanctum. The shop was celebrated as "Chicago's Most Complete Photographic Store" and its oldest. The building's 1930s-era green-and-yellow sign remained intact, its red neon stripes flickering underneath"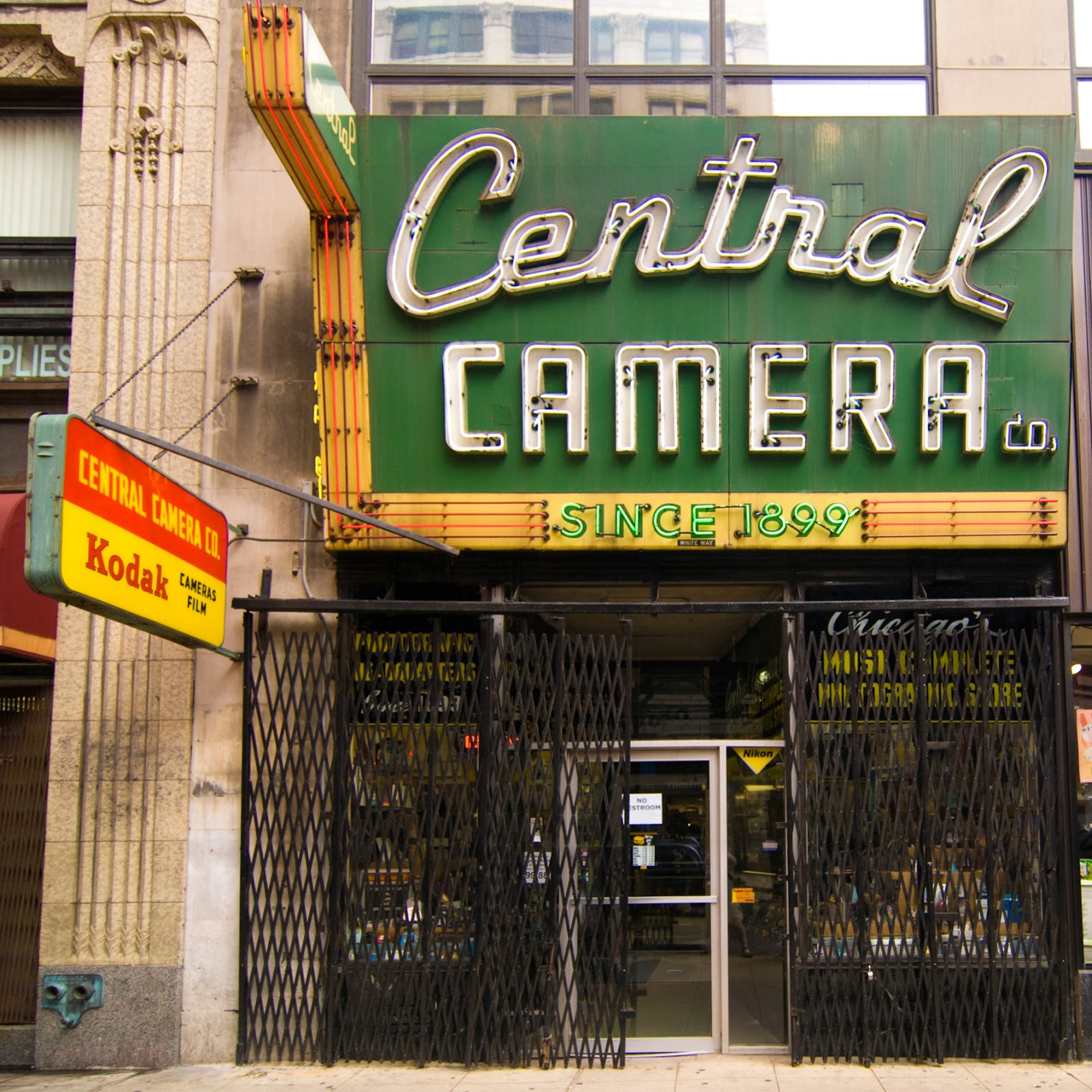 "the Wabash Street elevated train tracks. Inside, the long narrow shop presented a corridor of glass cases and counters loaded with new and old cameras of all types, along with a plethora of film, paper, and darkroom supplies. The camera store had been owned by the Flesch family for three generations and had maintained the same dedicated employees for decades. Unlike her Rogers Park neighbors who knew nothing about the nameless eccentric in their midst, Maier had from time to time in the past shared select personal information—and her passion—with these fellow camera and photography enthusiasts, who remembered her well but hadn't known about her death until Sekula told them of it. These old-timers recalled Vivian Maier from as far back as the 1970s. They knew her name from the envelopes that they sent off for developing her film, and she had been a steady customer. She was tall, wore hats and big coats, and always carried a Rolleiflex. As Sekula told Stein, they said that "she baby sat for a living, which explains the various children in her photos. She always overdressed, which sounds like the habit of a refugee, wearing all her clothes at once. She was a tough customer, it turns out, but did indeed love going to the movies, as long as they weren't American. Did not have a lot of money to make prints or even develop film, or perhaps preferred sitting in the dark theater to standing in the dark room over stinky trays of fixer. The countermen also remarked that Maier was very particular about the work they did for her. However, they didn't specifically recall Maier's photographs; everyone who came into the store was a photographer on some level, and she seldom shared her work. Vivian Maier mostly stood out because of the way she looked, her personality, and her consistent presence over the years. Still, they hadn't seen Maier for quite some time."
It is still amazing that no one from the developer to the counter guys made note of the quality of work being turned out by this shy and unassuming person.
On a personal note my Father grew up in Rogers Park section of North Chicago where Vivian lived. He too frequented Central Camera for his supplies. I know this because he taught me the elements of photography and his supplies proudly displayed the Central Camera logo. I do like to make a pilgrimage to CC when I am in town just to soak in all this nostalgia.